Cryoboxes Nalgene Polycarbonate CryoBox w/colored insert 81 (1.0 to 2.0mL...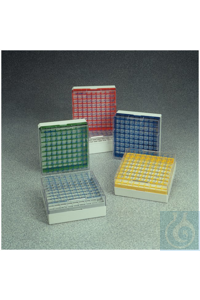 Prekė gali skirtis nuo prekės, parodytos nuotraukoje
Užsakymo numeris.: 8670130240
11,79 €
Kaina už 1 vnt. (Minimali užsakymo suma: 24 vnt.) be PVM (21%) plius siuntimo išlaidos
Cryoboxes
Meet any need and budget with Thermo Scientific™ Cryoboxes, available in materials ranging from economical chipboard boxes to break-resistant, durable polycarbonate boxes. These boxes include the most dense storage format available—store 169, 1mL tubes in a standard cryobox.
Durable, all-plastic cryoboxes for short- or long-term storage
Keyed lids on plastic cryoboxes to prevent misalignment
Plastic boxes autoclavable for decontamination and usable at temperature range from -196°C to +121°C
Printed grid on plastic lids for easy inventory management
Economical chipboard cryoboxes for short term storage
Chipboard boxes with dividers and vents in base for good drainage and air circulation
Available with dividers from 25 to 169 tube storage
Warranty
: 90 days
Description: Polycarbonate, 133 x 133 x 52mm
Capacity: 81 (1.0 to 2.0mL vials)
Design: Nalgene Polycarbonate CryoBox w/colored insert
Tube Array: 9 x 9
Color: Red
Height (Metric): 52mm
Height (English): 2 in.
Width (Metric): 133mm
Width (English): 5.25 in.
Length (Metric): 133mm
Length (English): 5.25 in.
Item Description: PC, Red, 133 x 133 x 52mm
Dimensions (L x W x H): 5.25 x 5.25 x 2 in. (133 x 133 x 52mm)
daugiau
Gamintojas:

Thermo Scientific - Nalgene

Prekės numeris:

867013-0240

Kategorija:

Krio (Cryo) dėžutės

Pakuotė:

24 vnt.

Kainos pasiūlymo galiojimas:

31.12.2020

Atnaujinta:

31.12.2019