Benchtop Coolers 0┬░C 3 x 4 Cryogenic vials and 0.2 to 0.5mL microcentrifuge...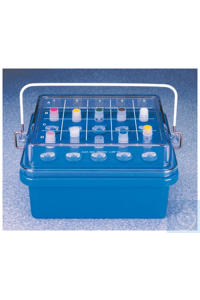 Prek─Ś gali skirtis nuo prek─Śs, parodytos nuotraukoje
U┼żsakymo numeris.: DS51160012
140,00┬áÔéČ
Kaina u┼ż 1 vnt. be PVM (21%) plius siuntimo i┼ílaidos
Benchtop Coolers
Protect enzymes, cells, reagents and solutions by maintaining freezer temperatures while on the laboratory bench using Thermo ScientificÔäó Benchtop Coolers.
Maintain freezer temperature during frost-free cycles, power failures and accidental door openings
Holds 12, 20 or 32 tubes
Inserts are included 1.5mL tubes to have the compatibility to hold 0.2-0.5mL microcentrifuge tubes
Printed grid on one-way keyed lid for proper orientation and sample identification
Molded of impact-resistant polycarbonate with locking handle for long-term use
Stackable to save space
Warrant
y: 90 days
Tube Compatibility: Cryogenic vials and 0.2 to 0.5mL microcentrifuge tubes
Temperature Rating: 0┬░C
Holds Temp., Hours: Hours,Hours,<1°C, 3.5
Compartments: 3 x 4
Style: Non-filled/clear lid
Height (Metric): 125mm
Height (English): 4.94 in.
Length (Metric): 151mm
Length (English): 5.32 in.
Width (Metric): 108mm
Width (English): 4.25 in.
Item Description: 3x4 compartments, non-filled, 0 deg.
Dimensions (L x W x H): 5.32 x 4.25 x 4.94 in. (151 x 108 x 125mm)
daugiau
Gamintojas:

Thermo Scientific - Nalgene

Prek─Śs numeris:

DS5116-0012

Kategorija:

Krio (Cryo) d─Ś┼żut─Śs

Kainos pasi┼źlymo galiojimas:

31.12.2020

Atnaujinta:

31.12.2019